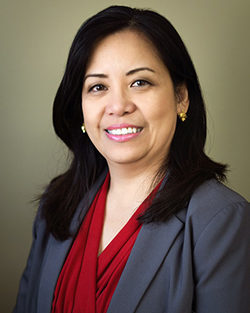 Teresa Sulit, PHR, SHRM-CP, CMS
Director of Human Resources
Teresa is a certified Human Resource professional bringing in 15+ years of progressive experience and skills in human resources processes, talent development, leadership, strategic planning, organization development and change management. She moved to Las Vegas from Raleigh, NC to join Seven Hills Hospital in May 2015 and immediately assimilated herself seamlessly to the leadership team and the staff. She enjoys her mission of acquiring and managing our talent pool to provide the best possible service to the patients.
Before Seven Hills, she has worked at several for profit and nonprofit behavioral health facilities including leadership roles in acute inpatient, community based treatment and rehabilitation, outpatient and residential. She has a passion in human resources in the field of behavioral Health.
Teresa has obtained her education from the Philippines. She graduated Cum Laude with a Bachelor's Degree in Psychology from the University of Santo Tomas and a university scholar for her Master's Degree (Candidate) in Psychology from Ateneo de Manila University. She then migrated to the United States and started working in the healthcare industry. To update her HR knowledge, she got certified as a Professional in Human Resources and continued to obtain several other certifications. She has taught classes in certifications in the local SHRM chapters. She was also an exam developer while a member of the HRCI Test Writing Task Force for their global HR certification.
She has successfully and happily found her niche. She truly enjoys her role at Seven Hills and feels at home. The quote she has in her office says it all…."Choose a job you love and you will never have to work a day in your life."